Stories: CIC in Action
Read stories from some of our CIC members on the field!
Ornamental & Vegetable Gardening: We can do both in our garden
by Haydee Lasco
The economic downturn brought by the Covid-19 virus pandemic should have motivated Filipinos to plant more vegetable crops. Instead, many turned to ornamental plants despite the staggering increase in their prices, not to mention garden supplies. There is no doubt that the 'plantdemic' has saved many from the emotional ills caused by this hideous infection. But how wonderful it would be if vegetable gardening became the craze in town.
What dissuades many to venture into vegetable gardening is the common idea that you have to allocate big spaces for your rows of vegetable crops. An ornamental plant enthusiast may not want to trade areas devoted to his/her plant collection with a vegetable patch. Still, the prospect of harvesting vegetables right in your backyard is sheer bliss.
Yet, we can do both. The solution is to have an excellent compromise called "interplanting." I have tried plant combination since 2018 and have never been happier. For instance, on my plant arrangement alongside our fence, taller plants like Eugenia, Papua, and Ficus, are planted on the back row. On the lower tier in front, are low-lying vegetable crops such as Pechay, Kangkong, Alugbati and herbs. They are strategically arranged so as not to ruin the aesthetics. The vegetable crops look like hedges that frame the ornamentals. The small lawn is maintained because the ornamentals and vegetable crops are confined on the sides. I also combine pots of chives, leeks, and other herbs with other potted ornamentals.
Interplanting has its many advantages too. When we interspersed plant herbs with our veggies, pests are greatly minimized. Planting flowering plants are also helpful because they attract pollinators and beneficial insects which feed on common pests like aphids and caterpillars.
Interplanting is best. You get to enjoy your ornamentals and eat newly harvested vegetables too. Wow! What a happy compromise!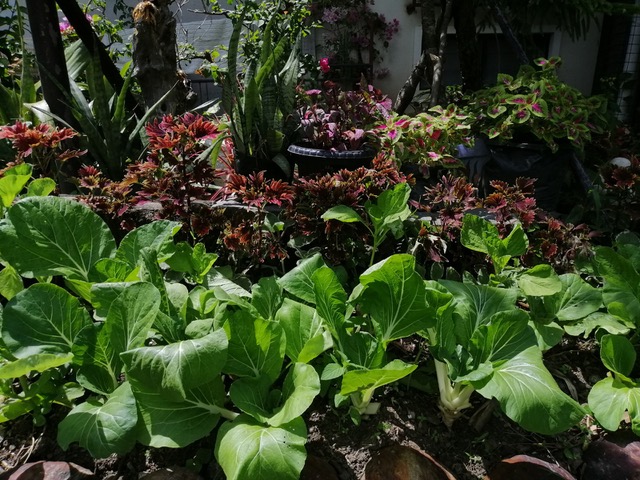 Dreaming Big for My Church
by Ivy Suzarah Ong, founder of Eco-Habit
Movements all over the world and in the Philippines are growing with the purpose of caring for the environment and embodying zero waste and low-impact lifestyles. Evangelicals are also gaining ground on this issue globally, but churches with an environmental program is still mostly unheard of. This prompted the creation of United Evangelical Church of the Philippines' Eco Habit team. With a cause for the church to take part in its role to take care of creation and be involved in environmental sustainability, conversations among church members turned into dreams, and dreams became reality. 
In 2019, our group was given a platform to influence change in the church's Fellowship Lounge. We identified our major problems to stem from a lack of environmental programs and systems and a need to bring about education, awareness, and behavior change.
Since then, we've started with some of these action steps:
1. Recruited wash volunteers to wash ceramic cups to give baristas helping hands and to eliminate use of paper cups. A positive result we have observed is the initiative of people offering to wash their own coffee cups which promotes a heart of service.
2. Displayed informational tabletop signages about the benefits of using ceramic cups versus paper cups. These serve as browsing material while enjoying their coffee.
3. Put up trash bin labels for segregation. We aim to create a culture where proper segregation is the norm.
4. From the trash bins, we collected, cleaned, washed, dried, and dropped off plastics at our various recycling partners for upcycling or supporting low-income individuals, thus diverting a quantity of trash from the landfill. We have done this system for both small and big scale events. 
During the pandemic, we pivoted by creating a Facebook group open to members and friends who are interested in things related to the environment. We want to encourage and inspire people that it is possible to live in eco-friendly ways with or without a pandemic. Our vision is also for this to be a community where we can reach out to unbelieving friends through a common interest. 
And so, I'd like to say that I believe in influence–no matter how big or small. God is molding my church in His time. Dare to make the dream the motivation to act. Let's continue to push forward and create ripple effects of change.