Carmela Española
Board Vice-Chairperson, Christians in Conservation Philippines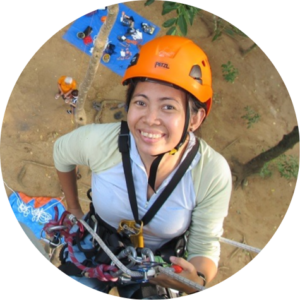 Dr. Española has been closely involved in wildlife conservation efforts in the Philippines. She started as a volunteer with the Philippine Endemic Species Conservation Project in Northwest Panay, where she was introduced to the study of birds and biodiversity. After a year of volunteering as a science teacher in Jolo, Sulu, she took on an exploratory project in this rarely studied island for Fauna and Flora International. This stint inspired the thesis she wrote on the birds of Capual Island in Jolo for a Master's degree in Wildlife Studies.
While doing graduate work under the Russell E. Train Education for Nature Fellowship of WWF, Carmela took on several volunteer jobs, one of which was with the Babuyan Islands Expedition in 2004. The expedition resulted in the discovery of the Calayan Rail, a new species of near flightless bird that is endemic to the island of Calayan in the northernmost tip of the Philippines. She also co-founded the Wild Bird Club of the Philippines, which is now the fastest growing and most active recreational birdwatching organization in the Philippines.
Dr. Española has since finished her PhD on the "Ecology and Conservation of Large-bodied Avian Frugivores of Luzon, Philippines" from Manchester Metropolitan University, United Kingdom. She is currently in the faculty of the Institute of Biology, University of the Philippines Diliman.